The Pagely Knowledge Hub
Explore the Pagely Knowledge Hub to level up your WordPress skills, get answers to WordPress Hosting pre-sales questions, and explore our support resources.
Key Items Start here for an overview of our services
WordPress on AWS: Solutions for enterprise, media, and the public sector.
WordPress on AWS
Supported Platform Integrations
WordPress Hosting Solutions Overview
Our powerful and flexible hosting solutions are designed specifically for WordPress.
Please consult with our sales team to request details specific to your needs.

new
Craig Martin of Performance Foundry is one of the most long-standing partners of Pagely having helped to resolve performance bottlenecks and tune high-traffic WordPress sites. In this conversation Sean interviews Craig about what's involved in diagnosing performance issues and resolving performance scaling issues, Craig's long history of nomadic travel and how he's built his company to be location-independent, how he won the Lonely Planet award [...]
Listen
Answers to your Managed WordPress questionsPre-Sales and Platform Support related guidance
Customer Success storiesselect case studies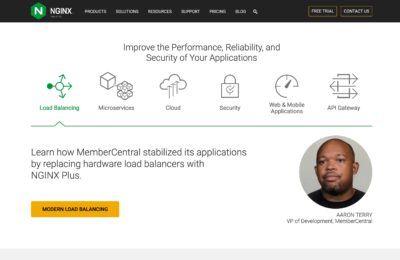 NGINX
NGINX, Inc. is the company behind the popular open source project trusted by more than 400 million sites, offering a suite of technologies for developing and delivering modern applications. After years of hosting their own website, the NGINX marketing team wanted to partner with a managed WordPress host. Pagely's support, expertise, and server visibility helped consolidate their web presence, moving performance concerns out of the way so they could focus on promoting their suite of products.
The Challenges
The NGINX website aims to inform and educate customers who want to learn more about how they can best use the company's suite of products to improve the performance and reliability of their websites and applications, while delivering a fast, easy to access, consistent, and clean user experience. The NGINX website is an important marketing channel that receives over 1.5M monthly page views, so it is critical that the website has high performance and reliability while scaling to meet the needs of the various functions of the company. The site runs on WordPress, but the team didn't have a dedicated engineer on hand to monitor and manage the infrastructure side of things. In addition, the marketing team didn't want to be preoccupied with the performance of the site.
Their hosting wishlist included 24/7 support ideally with an expertise in WordPress, HTTP/2, integration with a CDN, PHP7 support, access support in at least two geographically different zones, real-time security protections, and, of course, the tech stack had to use NGINX and/or products built with NGINX. NGINX was also looking for a partner with deep NGINX expertise as they wanted to showcase their technology as part of the website stack.
They wanted server access to logs so they could "see what's going on" and create custom configurations. They didn't want a standard "black box" approach. Pagely ticked all these boxes.
"
Knowing that the Pagely team is there for us 24/7 has been invaluable, not to mention the reliability and visibility they provide. These have been extremely important factors in helping us meet our marketing needs for NGINX.com.
The Solution
Once NGINX migrated over to Pagely, they immediately saw the benefit of the Pagely technical stack, including a proprietary CDN: PressCDN, powered by MaxCDN/AWS. Through a seamless migration, Pagely was able to own the process and quickly consolidate the work of four vendors into one hosted solution.
Pagely took the time to discuss what higher-level strategies NGINX wanted to implement with their website, and how it was set up. They provided the flexibility NGINX required with server configurations, high availability, and geocache nodes to ensure a great user experience for visitors to the website.
Pagely provided guidance on how to approach the site specific to what made sense for NGINX as a business, and at the scale they were operating at. With biweekly check-ins, the transition from self-managed hosting to using Pagely was easy and stayed on track with the NGINX marketing team's goals.
Immediate responses to monitor alerts means the NGINX site is now constantly prepared, with Pagely ready to fix any issues that arise.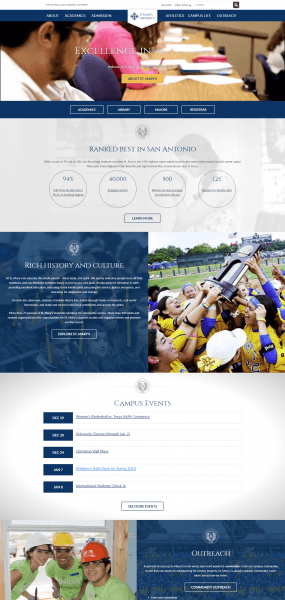 St. Mary's University
As a top tier master's level school, St. Mary's University has an elaborate site that fields a significant amount of traffic on a daily basis. So much so that their previous hosting company couldn't keep up and the nationally recognized university was finding their site was going down often. After realizing they needed a long-term hosting solution, they turned to Pagely to provide reliability, consistency and a true partner for the future of their website.
The Challenges
St. Mary's University was previously hosting with a local agency but their site was frequently crashing and the tech support team wasn't knowledgeable enough to help explain or fix the problem .  After a slew of communication issues and technological mishaps, the St. Mary's team knew it was time for a change.
After shopping for a new hosting company for awhile, St. Mary's University found Pagely and decided to partner with us as their hosting company because of our transparency. Through case studies and client reviews, St. Mary's was able to easily identify success stories of other education sites similar to theirs, providing a level of trust.
"
Pagely really listens to customer feedback and they add a lot of services based on what they hear from their customers. When we first started there was just a plugin to access the database, but now there's actual phpMyAdmin, which I'm a lot more comfortable with from a security standpoint. It's things like that -- the fact that they're continuously improving and appreciating feedback -- that make Pagely stand out.
The Solution
Through comprehensive collaboration with the St. Mary's team, Pagely was able to go above and beyond the university's expectations for managing their complex websites.  The St. Mary's team interacted with the Pagely team through the help desk system, citing that the level of support provided was much higher than other hosting companies they worked with in the past. Specific things were troubleshooted, even down to plugins that other companies refused to touch.
The Pagely support team was able to take the reins and take care of all migrations while keeping constant communication to ensure everyone was kept updated and all tasks were set up correctly and efficiently. Pagely was able to listen to St. Mary's needs and adapt their services to best meet their goals.
Amazon Web Services provides unique tooling and unparalleled performance and scalability that we know our customers deserve. We partner with AWS because we serve only the highest quality products to our customers.